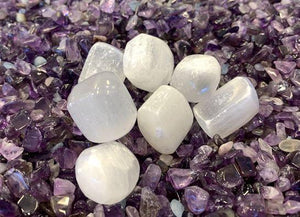 チャクラのシンボルが彫られた浄化の波動が一番強いセレナイトという石。
ネットを使っているときに近くに置いておくと結界を貼り保護します。
この上に置いたものはエナジャイズされます。
携帯電話を1日一回この上に数分置いておくと開運波動を引き寄せるとも言われています。
A stone called Selenite, which has the strongest cleansing vibrations with chakra symbols carved into it. If you keep it near you when you are using the internet, it will ward and protect you. Anything placed on it will be energized.
It is also said that if you place your cell phone on it for a few minutes once a day, it will attract good luck vibes.