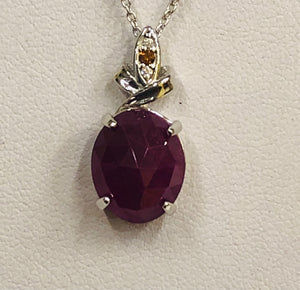 大粒5ctの存在感。本物の輝きと上品な華やかさ。
世界三大宝石のひとつ 


ビジネスを成功させる波動が最も高い石といわれています

ルビーにローズカットを施し、華やかに仕上げました。
ローズカットとは、16世紀初期から19世紀にかけて人気を博したカッティングスタイル。
薔薇のつぼみのように、平らな底部から頂点に向かいカット面がドーム状に配列しています。
5ctの大粒ルビーは、それぞれのファセット(面)が繊細に輝き、満面に光り輝きます。
上部にはレッドダイヤとホワイトトパーズをあしらい、アクセントに。
プレゼントにもおすすめ、他とは差のつく輝きがこだわりのルビーペンダントです。
 
サイズ・容量
トップ/(約)縦20.5×横10mm
チェーン/(約)45cm(アジャスター(約)5cm含む)
規格
■生産地:日本 ■素材・成分:トップ/SILVER925 ロジウム
チェーン/SILVER925 ロジウム
石/天然ルビー(処理石) 1石(約)5ct、レッドダイヤモンド(処理石) 1石、ホワイトトパーズ 2石

注意事項
素材上、色・内包物・形に個体差があります。
製作上、形・サイズ・重量等に個体差があります。
撮影状況やPC・モニター環境で実際商品と若干異なって見える場合があります。
A large 5ct rose cut Ruby piece.

One of the three most precious stones in the world.

The stone with the highest vibrations for successful business.

Rose cut was popular from the early 16th to the 19th century.
The cut surface is arranged in a dome shape from the flat base to the top, like the bud of a rose and provides full glow with red diamonds and white topaz.

This ruby pendant makes a great gift and is sure to set you apart from the crowd.

Size: 
Top / (approx.) 20.5 x 10 mm (length x width)
Chain / (approx.) 45cm (including adjuster (approx.) 5cm)
Place of Origin: Japan
Material: Top / SILVER 925 Rhodium
Chain / SILVER925 Rhodium
Stones: 1 natural ruby (treated) (approx. 5ct), 1 red diamond (treated), 2 white topaz

Notes
Due to the nature of the material, there may be variations in colour, inclusions and shape.
The shape, size and weight of each piece may vary.
The product may look slightly different to the actual product due to the photographic conditions, PC and monitor environment.