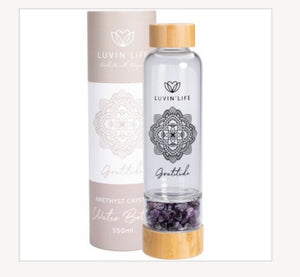 クリスタルは振動してその振動は愛の周波数に共鳴します
特にアメジストは全てのネガティブなものをポジティブな波動に変換し浄化して癒す
マザーアースが生んだ最高のヒーラーとしてのエネルギーを持ちます
クリスタルの波動を水に転写する様ににデザインされたウォーターボトルです
アメジストの花歌っての水を毎日飲みましょう

Crystals vibrate and their vibration resonates with the frequency of love.
Amethyst in particular converts all negativity into positive vibrations, cleanses and heals. It has the energy of the best healer Mother Earth has ever produced.

This water bottle is designed to transfer the vibrations of the crystal to the water.