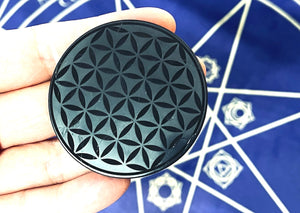 5cm
自然治癒力を増幅させる石。太陽系で最もパワーのある冥王星の波動が宿る石。電磁波防止作用のある石。
神聖幾何学フラワーオブライフの刻印入り。特別な波動が宿ります
ロシアのカレリア共和国でのみ産出される本物のシュンガイト です。
ロシアカレリアからの入荷品。
Shungite handmade in the Republic of Karelia, Russia.

人間の身体に影響を与えるという高周波電磁波をシュンガイトプレートは防止してくれます。シュンガイとは20億年前に生成された非常に珍しいミネラルです。化学実験でシュンガイトがこの高周波電磁波を防止してしてくれることが立証されました。これはロシア カレリア産の物に限られておりますので模造品にはご注意ください。
Shungite plate is used to protect against high frequency electromagnetic waves, which may a negative impact on the human body.
Shungite is a rare mineral that is more than two billion years old. Scientific studies have found that this mineral has the ability to absorb EMF. This ability has only a real shungite mined in Karelia. Beware of fakes!

自然のシュンガイトは白い水晶と黄色の黄鉄鉱が含まれているため断面にその色が出てくることもあります。その個性的な色合いをお楽しみください。
Natural shungite stone contains inclusions of minerals quartz (white color) and pyrite (yellow color). Therefore, when engraving shungite plate, veins of quartz and pyrite can emerge on the surface. In each case, a unique individual pattern on the surface is obtained.