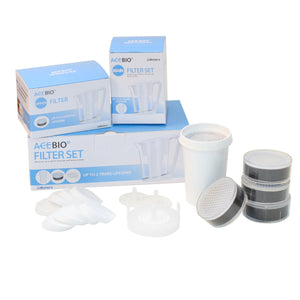 Benefits of a water purifier
Removal of harmful substances (Such as) - chlorine, fluorine, chemicals, pesticides, rust, bad odours, sediment, heavy metals, bacteria, lead, bacteria, lead, chloroform and other trihalomethane, E-coli, parasites and other bacteria.
 Provides better tasting and better smelling water, reduces the risk of cancer, retains minerals and provides a better pH balance, reduces digestive disorders and provides the healthiest alkaline mineral water available.
 All products are made from materials free from BPA, BPS and other harmful substances.
 浄水器の効果
有害物質の除去(例) ― 塩素、フッ素、化学物質、農薬、錆、悪臭、沈殿物、重金属、細菌、鉛、クロロホルム等のトリハメタロン、大腸菌、寄生虫等のバクテリア
美味しくより良い香りの水の提供、がんのリスクの低減、ミネラルを保持しより良いpHバランスの提供、消化器疾患の低減、最も健康的なアルカリミネラルウォーター水を提供
すべての製品はBPA、BPS、有害物質を含まない素材を使用