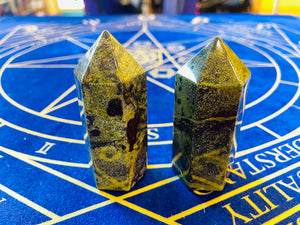 7.5 cm hight x 3 cm

持ち主に深い癒しを与えるとともに、多くの気づきをもたらし、高次元の存在や意識との繋がりを深めてくれます。特にコミュニケーションをサポートするよう働きます。
潜在能力を解放し、心と心の繋がりを強め、新しい考えや価値観を導く高次元へのつながりを強化し新しい自分に生まれ変わる手助けをしてくれます。
It brings deep healing and awareness to the owner, deepening the connection with higher dimensional beings and consciousness. Its energy works especially to support communication.
It releases latent abilities, strengthens the connection between mind and heart, and
It strengthens the connection to the higher dimensions, leading to new ideas and values, and helps us to be reborn as a new person.